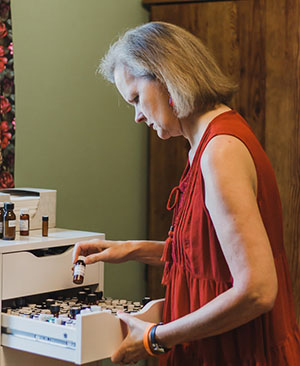 Anita Langholz has been involved with homeopathy since 1991. After seeing remarkable results from her family's constitutional treatment, she began studying homeopathy on her own. Eventually, her passion for homeopathy inspired her to bring homeopathic care to Iowa, and especially to Clear Lake.

In 2001, she enrolled full-time at the Northwestern Academy of Homeopathy (NAH) in Minneapolis, Minnesota. She opened Lake Homeopathic Care during her clinical training with NAH in November 2003. Upon her graduation in April 2005, she began practicing homeopathy full-time.

Anita and her husband, Paul, have lived in Clear Lake since 1984, where they have raised their three sons. Anita is active in the music ministry at Clear Lake Christian Church, where she sings and plays bass on a worship team with Paul and plays violin and keyboard as needed. When her nose is not buried in homeopathy or health related books, Anita enjoys baking nutritious meals, biking, canoeing, and spending time with her husband, children and grandchildren.

Anita is a native Iowan, the youngest of seven children, born and raised on a farm in northeast Iowa. She graduated from Wartburg College with a Bachelor of Music Education degree in 1977. Prior to pursuing her homeopathic career full-time, she was a nationally certified piano instructor in Clear Lake and an active member of the Iowa Music Teachers Association. She was also a volunteer leader with La Leche League International in north Iowa.